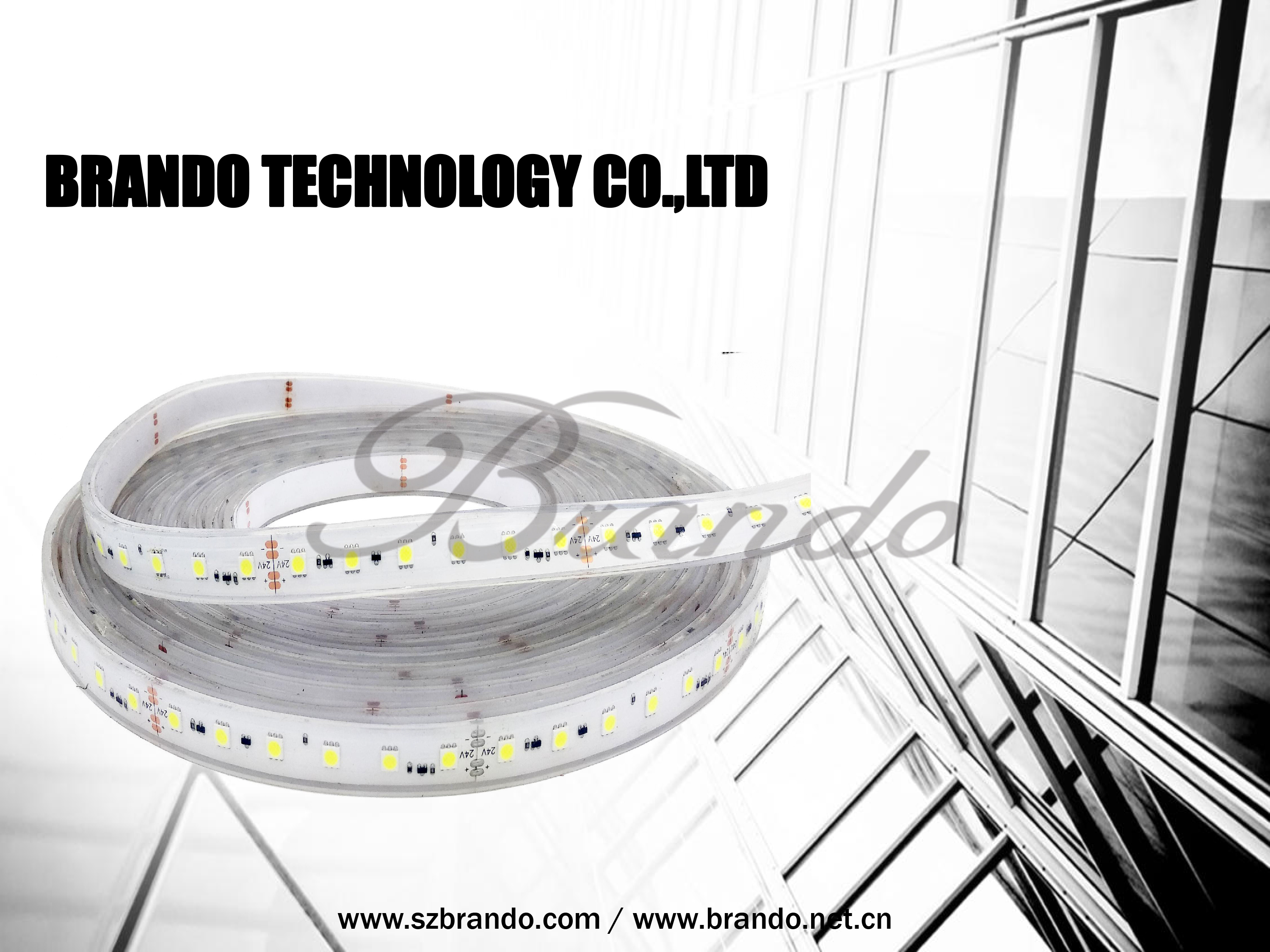 The new designs incorporate cluster management technology, whereas the LEDs are fixed onto PCB boards forming clusters which are then welded together and extruded in a food grade silicone to form the actual strip lighting, these PCB boards are connected in parallel with the electrical circuit working together in synergy as a lighting platform, but independently in the unlikely case of failure, this means if there is a failure on any components of the lighting it would be isolated and not affect the remaining lighting system.
LED strip light features
1. Flexible, can be bent into any shape
2. High quality products, Europoean and US standard
3. 3528 or 5050 SMD LED adopted,high brightness ,stable performance.
4. long lifetime,5% attenuation after 2500 hours,life time is 80000-100000 hours
5. Energy saving and environmental friendly.
6. 5m/rell is the standard package,but the size can be customized
7. Various of LED density optional, e.g.30LEDs/M,60LEDs/M,96LEDs/M. etc.
8. Each unit of 3LEDs can be cut out at regular segments.
9. 3M adhensive attached on the back of PCB,for stick installation.
10. White, warm white,red,green,blue and yellow color and RGB available.
Plug and play system
Conventional lighting requires separate power and a wired connection to every lamp, needing the expertise of electricians. This becomes labour-intensive and costly when running many meters of lighting. The BRANDO LED Strip Lighting plugs into an existing power source using a power supply which then connects to one end of the LED strip. A single power supply will light a 20 meter LED section. To extend beyond 20 meters, just add another power supply at the other end and connect the next section of LED strip – it's that simple.
Maintenance-free. Easy to repair.
Damage to lighting through routine underground activities happens. When a conventional lamp is damaged, it results in loss of illumination over many meters – making the affected area a safety hazard until repaired by a qualified electrician. Should a section of the BRANDO strip light be damaged, only this section loses light. The remaining portion of the strip continues to provide illumination – allowing for a safer environment. Additionally, damaged sections can be replaced in 8" strips – making it a quick and cost-effective fix.
• Intelligent temperature management, sensors monitor LED temperature and if safe parameters are exceeded the affected LED's are automatically dimmed until safe temperatures are restored.
• Intelligent voltage surge management, restorable resistors limit overcurrent and overvoltage situations.
• AC to DC convertors, miniature voltage convertors.
• Short circuit protection, in the case of short circuit the power is isolated until the circuit is normalized.
Dimension: 10000mm(length) *13.5mm(width) *6mm(height)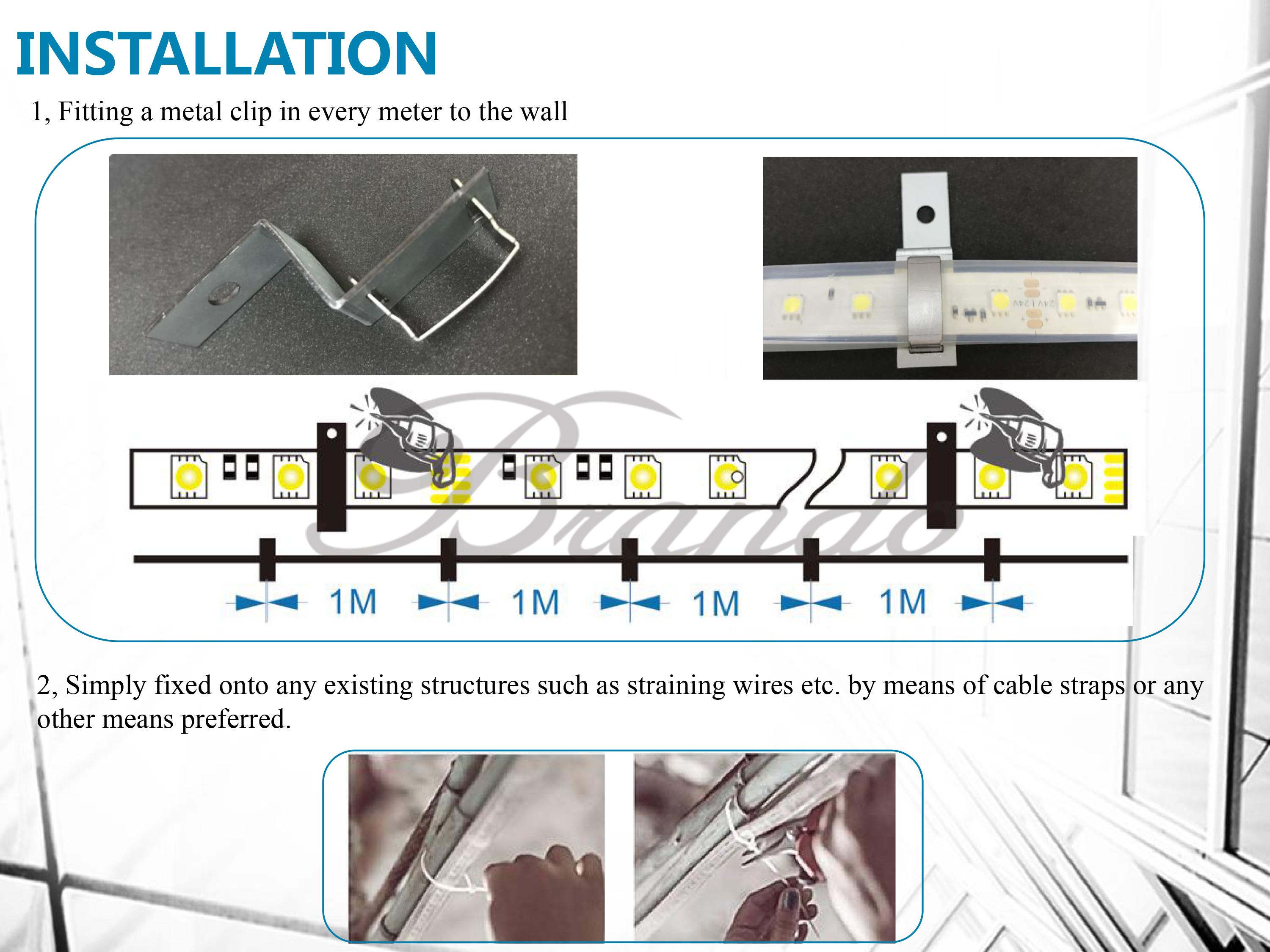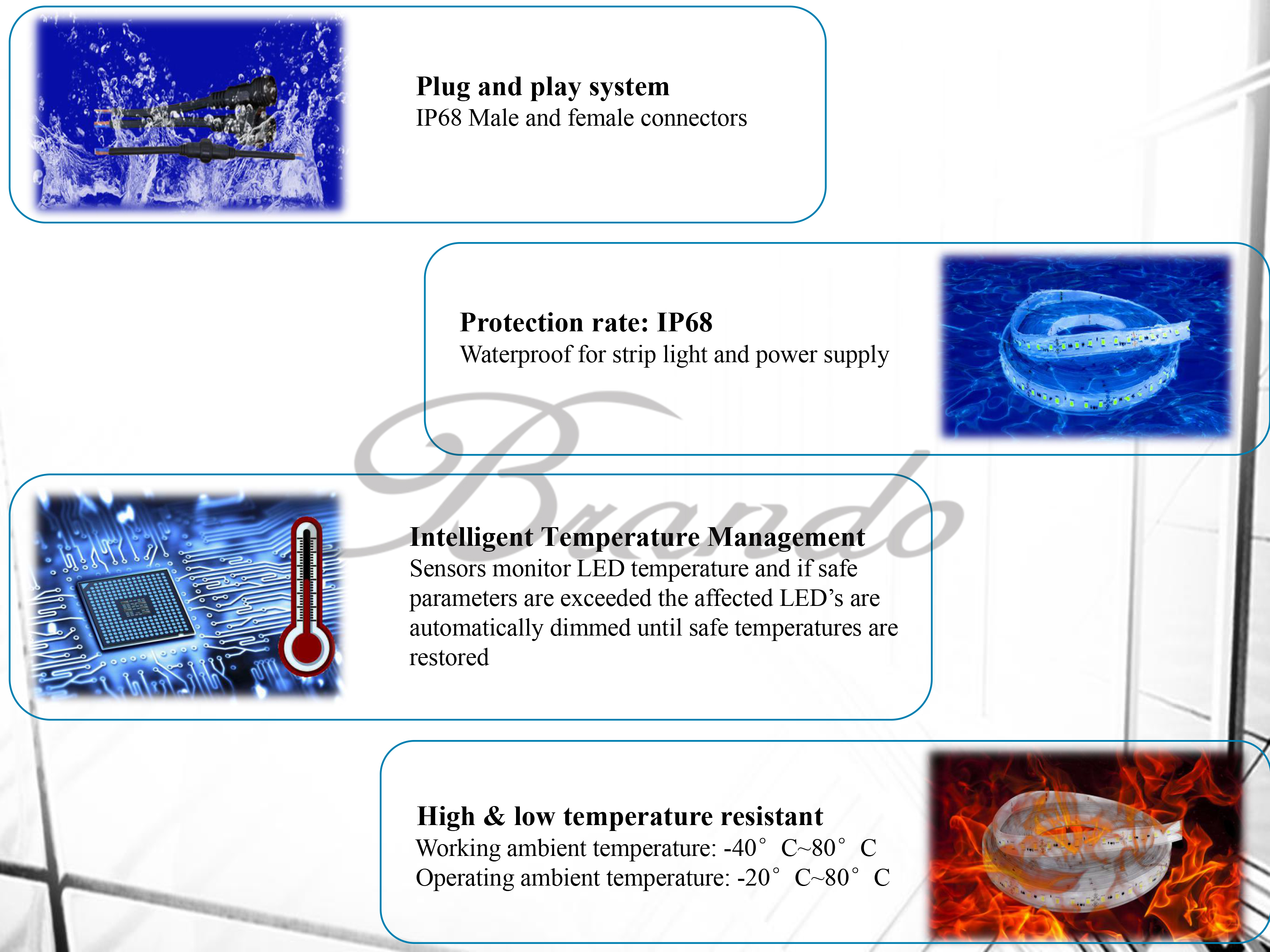 TECHNICAL PARAMETERS:
Part Number

BO-SL60-24V(B)

LED Chip

Epistar

LED configuration

72 LED's spaced evenly over a metre length

Range fed from both sides

20 metres

Recommended fixing height

5 - 6 Metres

IP Rating

68

Power Consumption per LED

0.25 Watts

Power Consumption per Metre

15 Watts

Colour Rendering Index CRI

> 80

Colour temperature

10000 Kelvin

Luminous Efficacy

80 Lumens / Watt

Voltage on lighting VDC

24 VDC

Supply voltage for power controllers VAC

85 - 265 VAC

Light maintenance

15%-20% Drop over 4 years

Lifespan

5 Years +

Warranty Lighting

3 Years

Outer covering

Food grade silicone

Dimensions

10000mm(length) *13.5mm(width) *6mm(height)

Tensile strength

+-50KG

Operating temperature

-40℃ to 120℃

Protection

Short Circuit
Over Voltage
Over temperature
Over Current
BRANDO Related Mining Strip Light
Part Number

LED

configuration

Range

Power/

meter

Light Source

Working

Voltage

Luminous

Efficacy

Colour

Temperature

Dimensions

Outer covering

IP Rating

BO-SL60-24V(B)

60 LEDs/m

20m

15W

5050

DC24V

80Lumens / Watt

10000 Kelvin

L: 10000mm

W: 13.5mm

H: 6mm

Food grade silicone

68

BO-SL60-36V(B)

60 LEDs/m

40m

15W

5050

DC36V

80Lumens / Watt

10000 Kelvin

L: 10000mm

W: 13.5mm

H: 6mm

Food grade silicone

68

BO-SL60-110V(B)

60 LEDs/m

100m

15W

5050

AC110V

80Lumens / Watt

10000 Kelvin

L: 10000mm

W: 13.5mm

H: 6mm

Food grade silicone

68

BO-SL60-220V(B)

60 LEDs/m

100m

15W

5050

AC220V

80Lumens / Watt

10000 Kelvin

L: 10000mm

W: 13.5mm

H: 6mm

Food grade silicone

68

1, The power supply can drive one length or different lengths within allowed maximum length by feeding
light both ends.
2, To minimize the voltage drop and keep light consistency, position power supply nearest to the power feed end of LED strip light and keep the power line as short as possible.