Our plug and play system
Conventional lighting requires separate power and a wired connection to every lamp, needing the expertise of electricians. This becomes labour-intensive and costly when running many meters of lighting. The BRANDO LED Strip Lighting plugs into an existing power source using a power supply which then connects to one end of the LED strip.
Maintenance-free. Easy to repair.
Damage to lighting through routine underground activities happens. When a conventional lamp is damaged, it results in loss of illumination over many meters – making the affected area a safety hazard until repaired by a qualified electrician. Should a section of the BRANDO strip light be damaged, only this section loses light. The remaining portion of the strip continues to provide illumination – allowing for a safer environment. Additionally, damaged sections can be replaced in 8" strips – making it a quick and cost-effective fix.
• Intelligent temperature management, sensors monitor LED temperature and if safe parameters are exceeded the affected LED's are automatically dimmed until safe temperatures are restored.
• Intelligent voltage surge management, restorable resistors limit overcurrent and overvoltage situations.
• AC to DC convertors, miniature voltage convertors.
• Short circuit protection, in the case of short circuit the power is isolated until the circuit is normalized.
Dimension: 10000mm(length) *20mm(width) *10mm(height)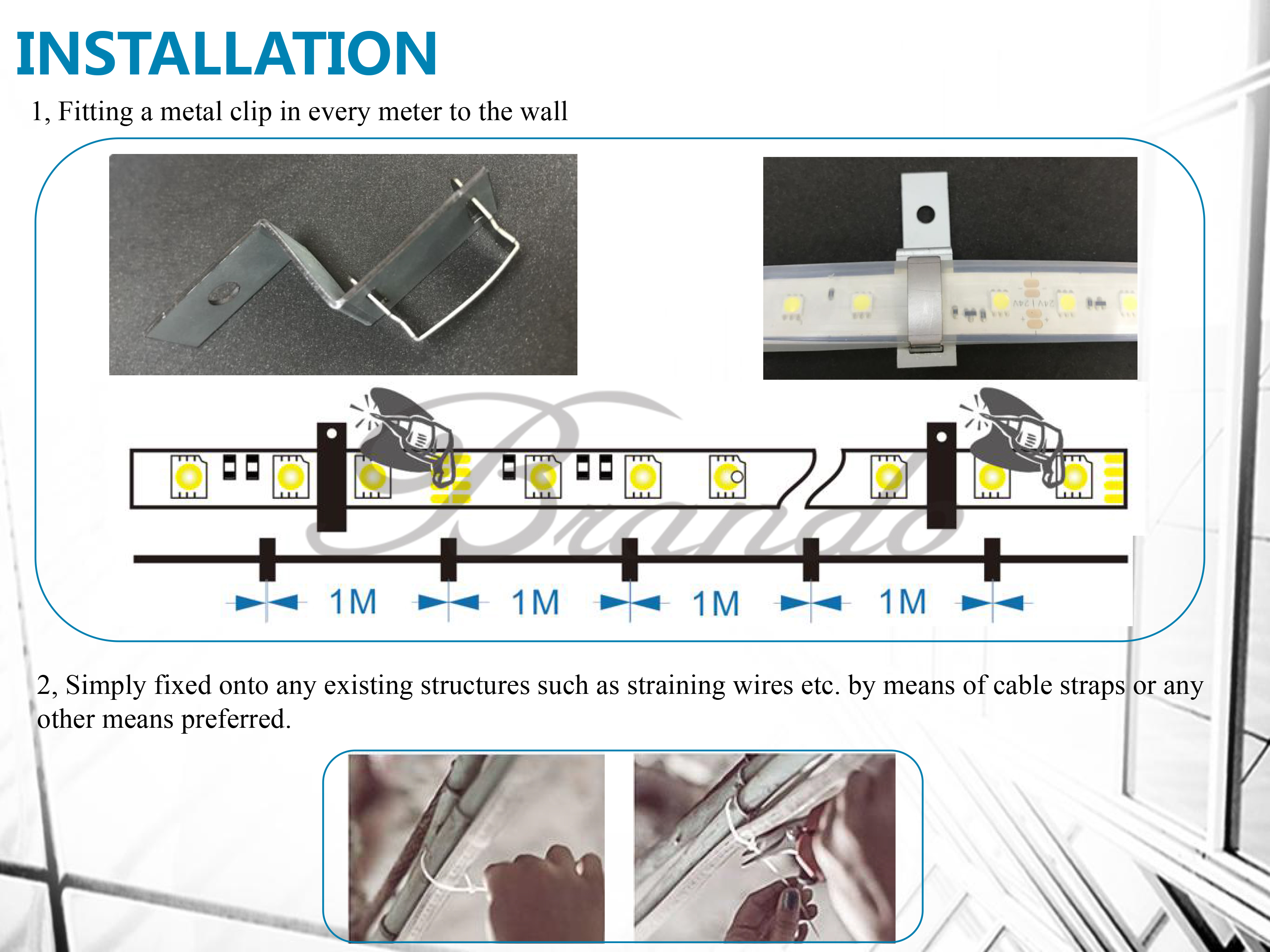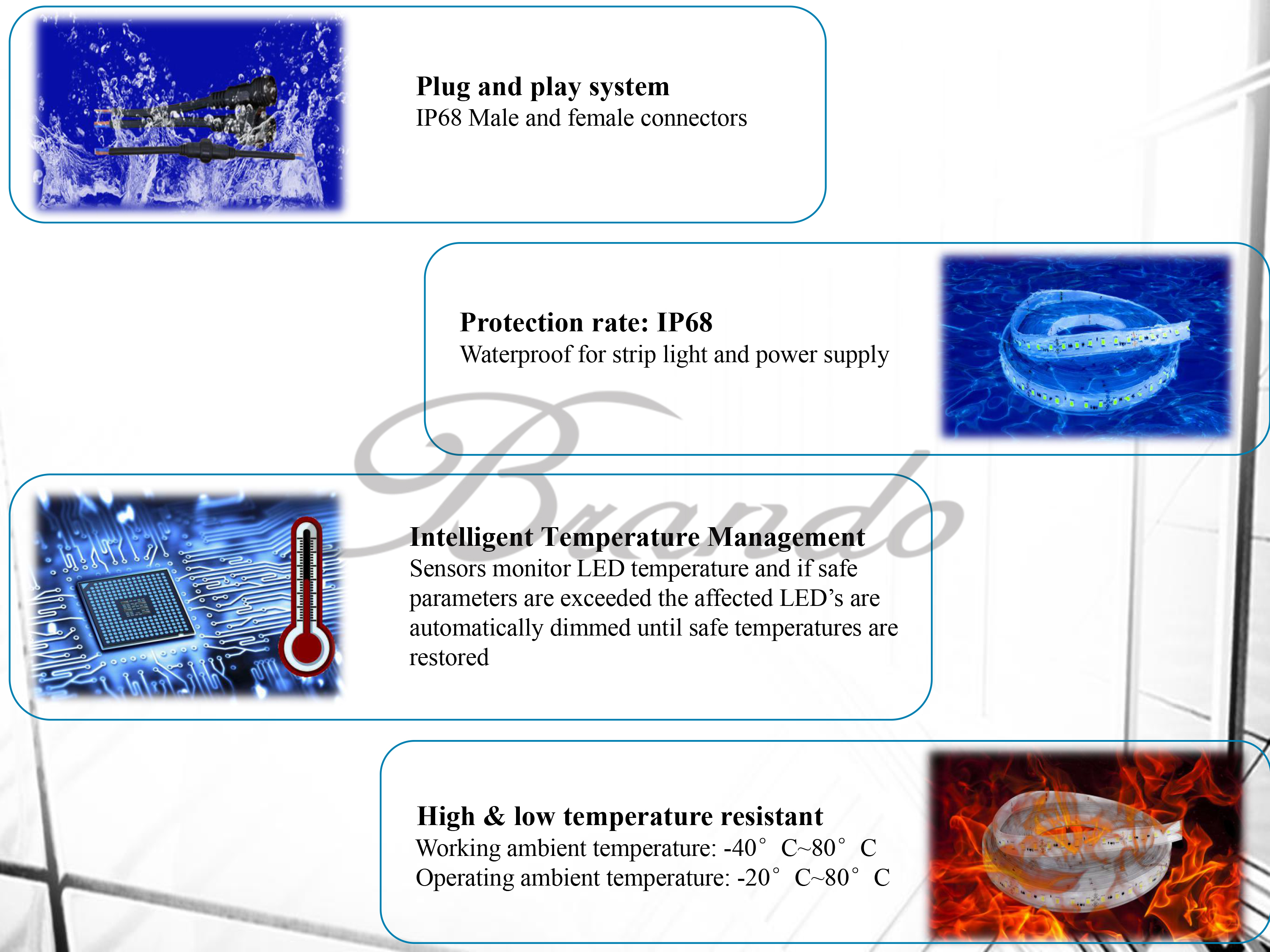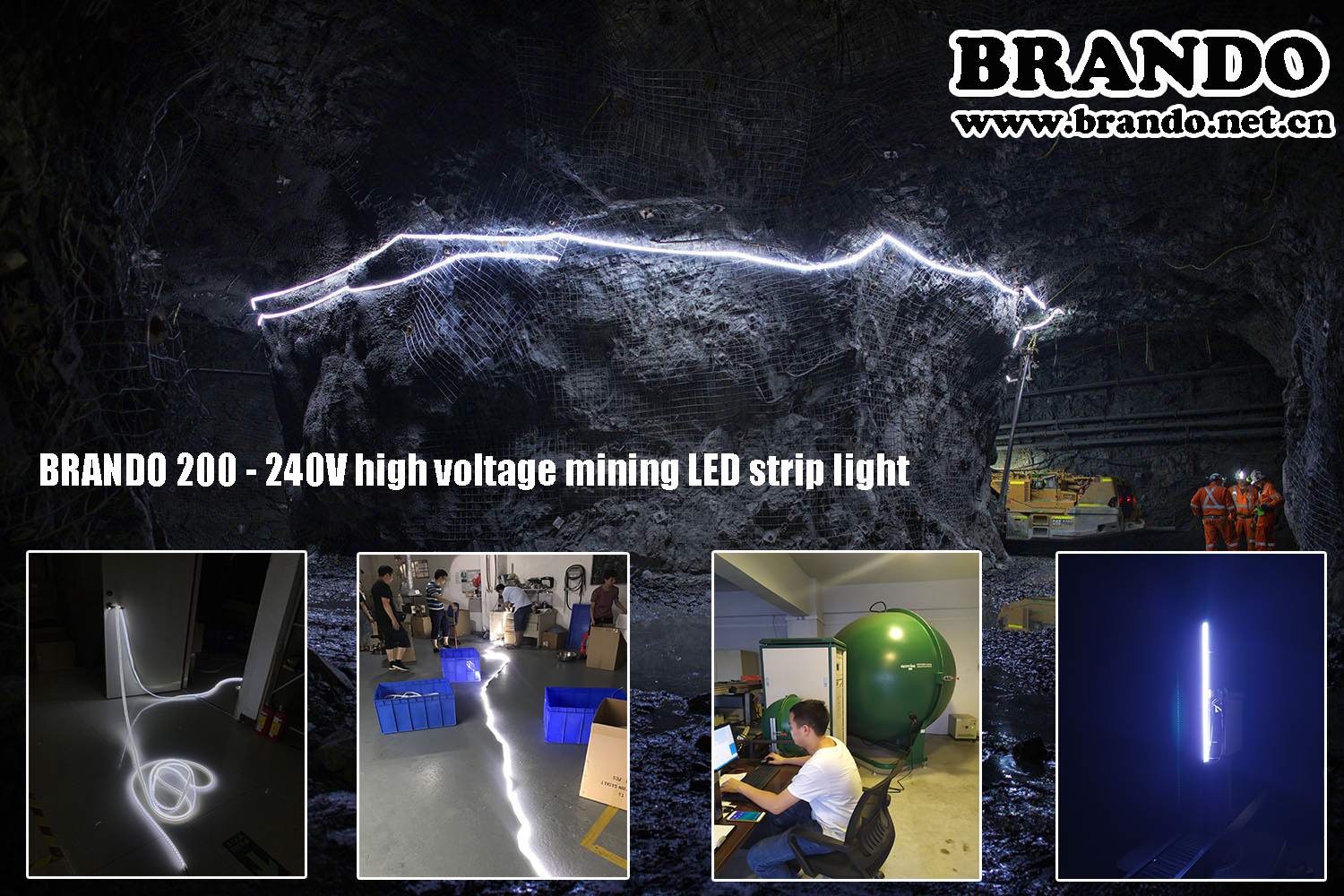 TECHNICAL PARAMETERS:
Part Number

BO-SL60-110V(A)

LED Chip

Epistar

LED configuration

72 LED's spaced evenly over a metre length

Range fed

80 metres

Recommended fixing height

5 - 6 Metres

IP Rating

68

Power Consumption per LED

0.25 Watts

Power Consumption per Metre

15 Watts

Colour Rendering Index CRI

> 80

Colour temperature

10000 Kelvin

Luminous Efficacy

80 Lumens / Watt

Voltage on lighting VAC

110-120 VAC

Light maintenance

15%-20% Drop over 4 years

Lifespan

5 Years

Warranty Lighting

3 Years

Outer covering

Food grade silicone

Dimensions

5000mm(length) *20mm(width) *10mm(height)

Tensile strength

+-50KG

Operating temperature

-40℃ to 120℃

Protection

Short Circuit
Over Voltage
Over temperature
Over Current

BRANDO related Mining Strip Light
Part Number

LED

configuration

Range

Power/

meter

Light

Source

Working

Voltage

Luminous

Efficacy

Colour

Temperature

Dimensions

Outer covering

IP Rating

BO-SL60-24V(A)

60 LEDs/m

20m

15W

5050

DC24V

80Lumens /

Watt

10000 Kelvin

L: 10000mm

W: 20mm

H: 10mm

Food grade silicone

68

BO-SL60-36V(A)

60 LEDs/m

40m

15W

5050

DC36V

80Lumens /

Watt

10000 Kelvin

L: 10000mm

W: 20mm

H: 10mm

Food grade silicone

68

BO-SL60-110V(A)

60 LEDs/m

100m

15W

5050

AC110V

80Lumens /

Watt

10000 Kelvin

L: 10000mm

W: 20mm

H: 10mm

Food grade silicone

68

BO-SL60-220V(A)

60 LEDs/m

100m

15W

5050

AC220V

80Lumens /

Watt

10000 Kelvin

L: 10000mm

W: 20mm

H: 10mm

Food grade silicone

68